TRIP TYPE



Whales & Bears Kayak Adventure
Tour Overview
Imagine escaping to a Boutique Wilderness Resort then heading further into the wilderness on a Kayaking & Glamping Adventure. This Whales & Bears Kayaking Adventure is an unparalleled, transformative outdoor experience not to be missed.
Your trip starts out at a boutique wilderness resort, your launch point for your first expedition into the wilderness seeking out wildlife. Keeping up the pace, on the third day you will board a water taxi to spend four days glamping in the deep wilderness where you will go kayaking in killer whale territory.
Whales, Bears, Glamping, Boutique Wilderness Resort – this trip has it all.
YOUR ADVENTURE BEGINS AT ONE OF QUADRA ISLAND'S SPECTACULAR RESORTS
For the first three days of your trip, you will be situated at one of Quadra Island's top resorts. Nestled on acres of lush coastal landscape on Canada's spectacular west coast this is an ideal location to begin your Whales & Bears Kayaking Adventure.
Arrival time on your first day is up to you. Whether you choose to meander your way up to the island from Vancouver or Victoria or arrive early to fit in an additional adventure, there is no wrong way to plan your day.
You will spend both your first two nights and your final night at the resort. A Wildlife tour is planned for your second day.
GLAMPING IN THE CANADIAN WILDERNESS
On your third day you will head to Orca Camp. Boarding a water taxi at the resort dock will taking to camp.
Orca Camp is situated directly beside the Robson Bight Ecological Reserve in Johnstone Strait, and located next to a flowing stream, under a canopy of ancient cedars in the British Columbia rainforest. This is where whales spend their days throughout the summer.
During this part of your Whales & Bears Kayaking Adventure you will kayak, sleep in safari tents, enjoy campfires and eat delicious food.
In addition, you will have the opportunity to participate in wilderness activities such as soaking in a wood-fired hot tub, relaxing in a native style sauna, and (for the brave) plunging into the mountain-fed glacial stream.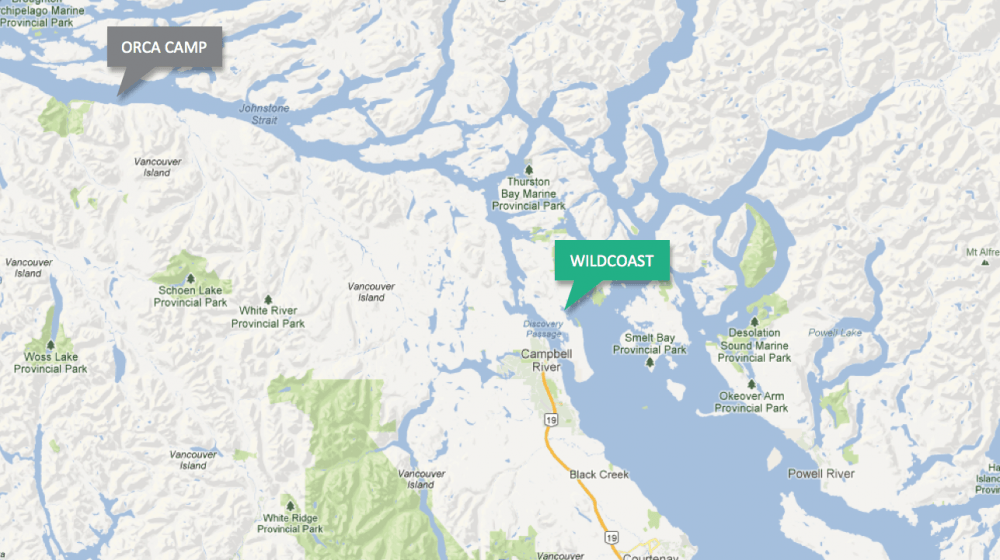 Wildlife: Orcas, Bears and Humpback Whales
Your Whales & Bears Kayaking Adventure begins with a covered boat tour with the region's top rated operator.
June through August is prime time to explore the Discovery Passage and surrounding islands. Home to some of the world's most spectacular wildlife. Your guide will seek out Dalls Porpoise, Pacific White Sided Dolphins, Sea Lions, Eagles and Black Bears.
September is Grizzy Bear Season! Trips during this time travel aboard a high-speed covered boat into the Orford River Valley. Once you arrive the Holmalco First Nation will invite you onto their traditional territory. Climbing up onto their bear viewing platforms you will have an unobstructed view of Grizzly Bears as they roam the river banks and feed on the spawning salmon.
Then, it's onto finding Whales. Departing early in the morning on your third day, a water taxi will pick you up at your resort to take you north to the Wildcoast Orca Camp in Johnstone Strait.
Camp is ideally located next to the Michael Biggs Robson Bight Ecological Reserve, home to the Orca Rubbing Beaches. It's an excellent launch point to go kayaking in killer whale territory. Over 500 Orca (Killer Whales) travel through this part of the coast.
In the last few years, Humpback Whales have also made a strong resurgence in Johnstone Strait and have often been seen on our kayak trips. And if you decided you'd like to sit back and relax at camp, the rambling rocky beach often provides spectacular whale watching right from shore.
Given their wild nature, you can never be guaranteed to be kayaking with orcas and humpback whales, however your chances to encounter whales in this area is incredibly high.
Wildlife tour on a motorized boat
Kayaking prime killer whale territory
Glamping in the wilderness
Start and end at a wilderness resort
Custom coastal cuisine
High staff to guest ratio
Small group size
Hot tub and Sauna
High staff to guest ratio
Small group size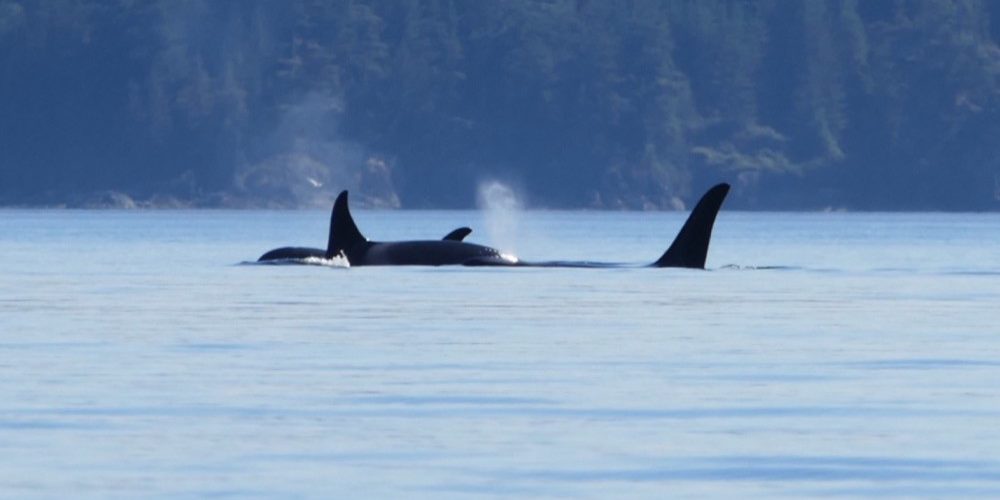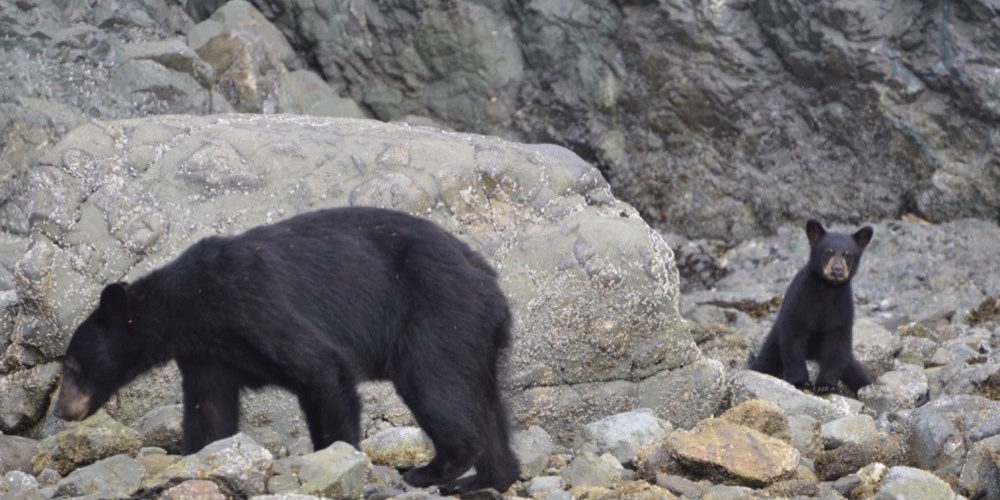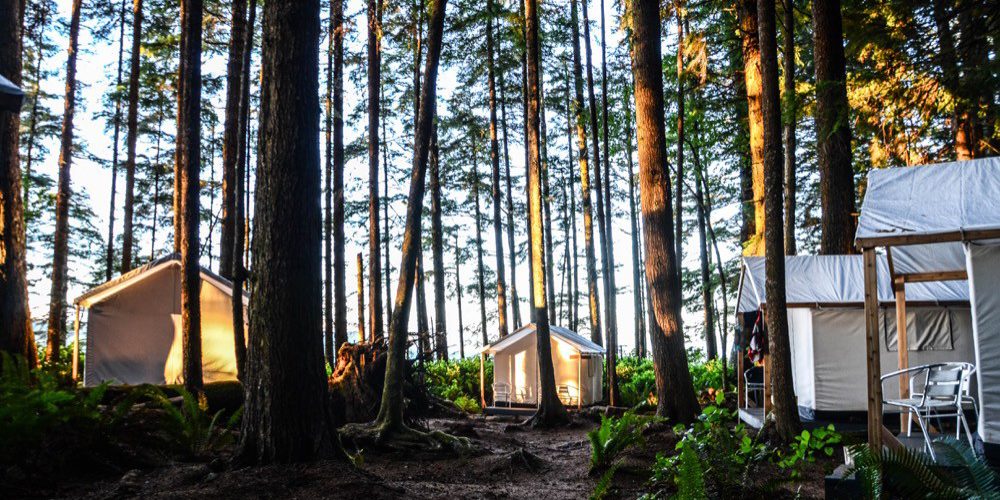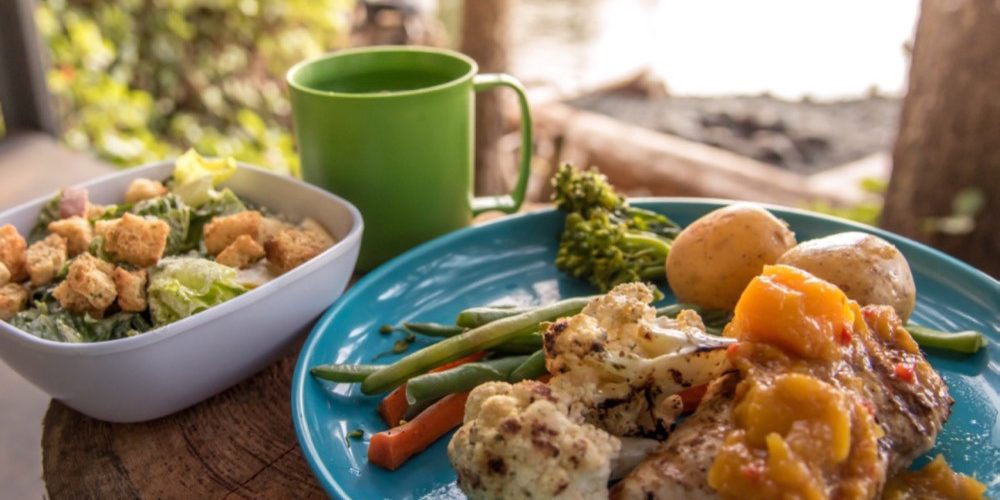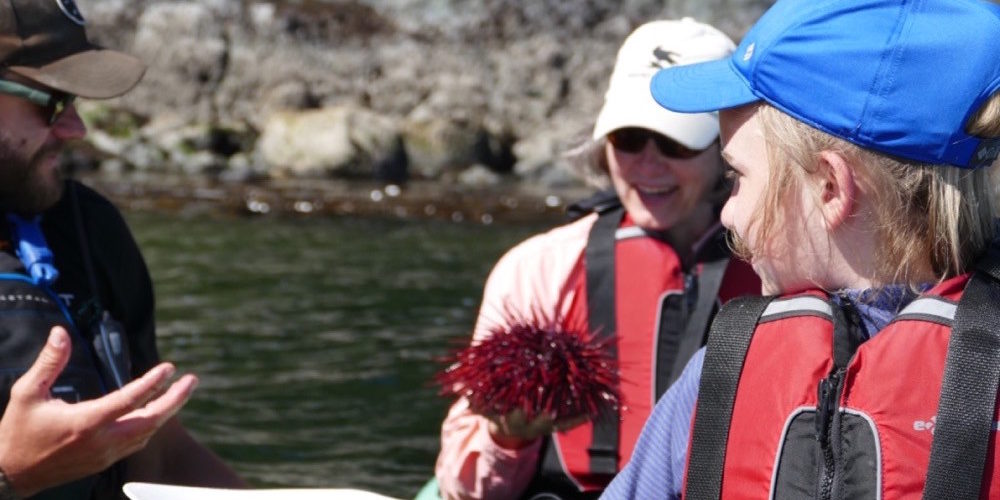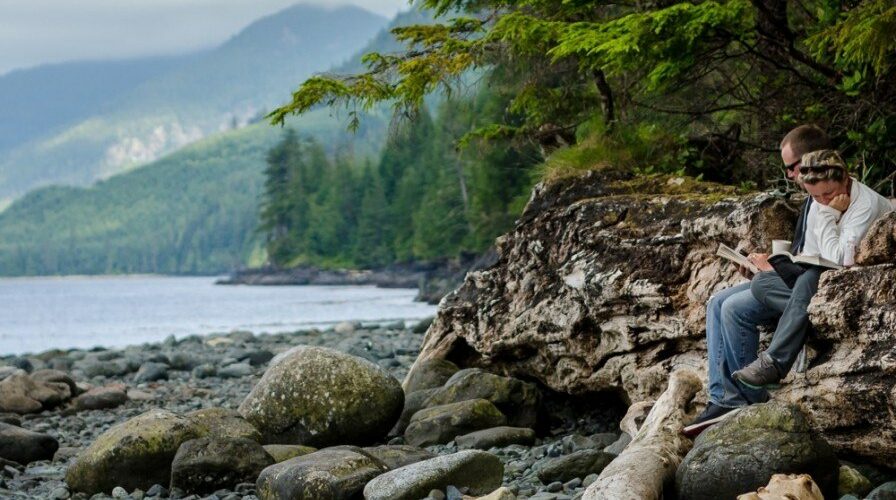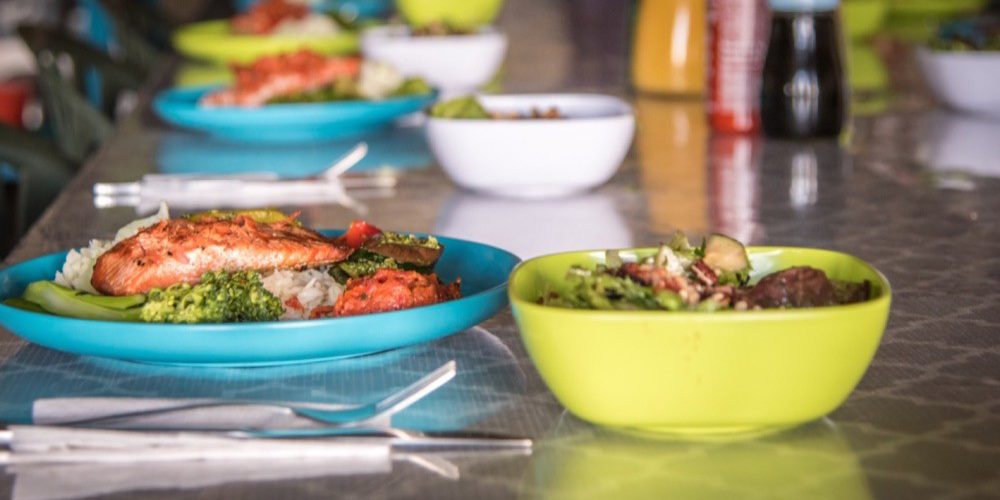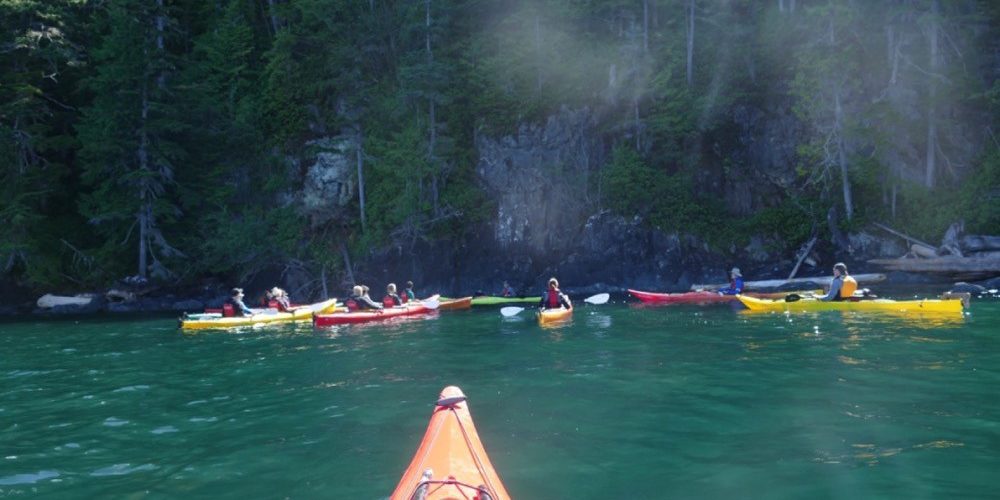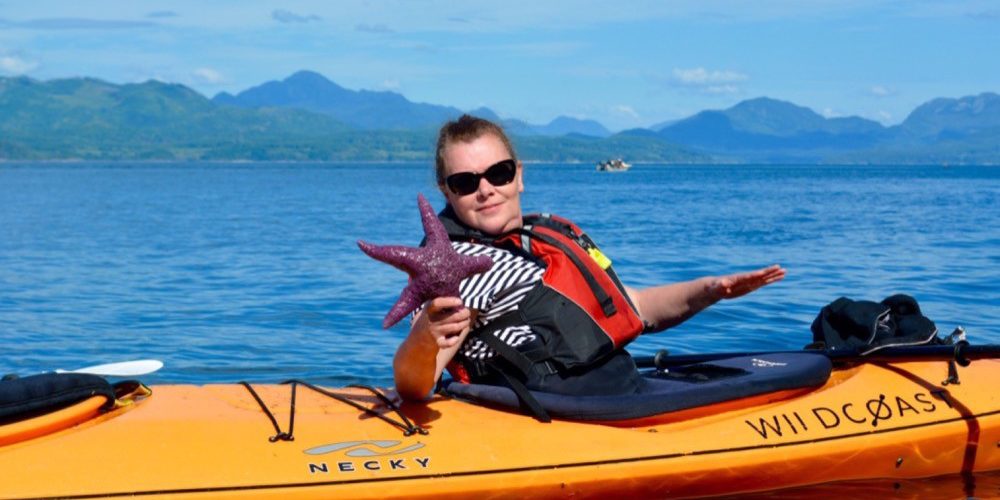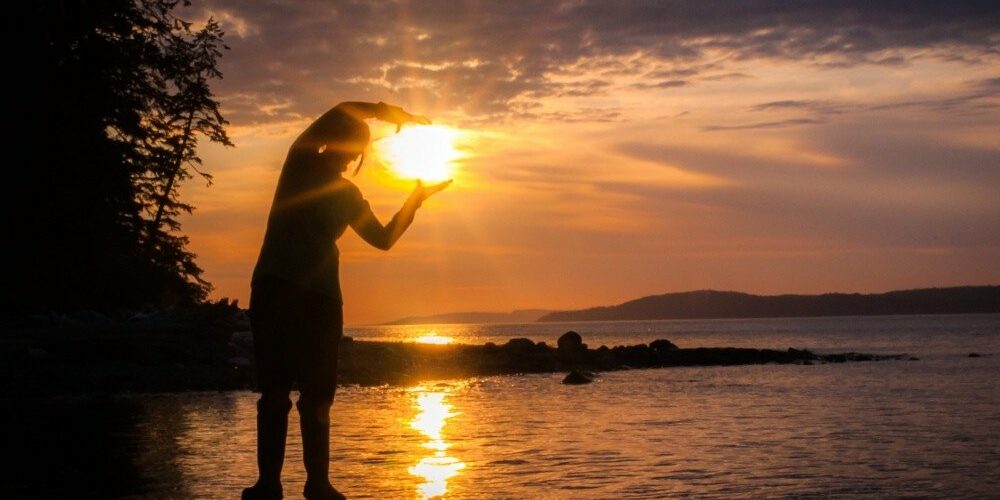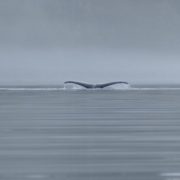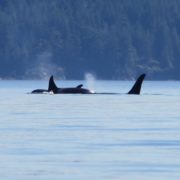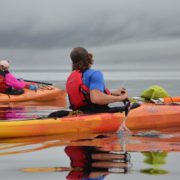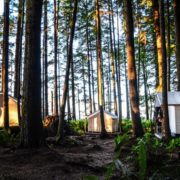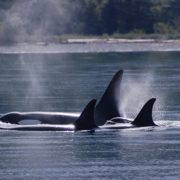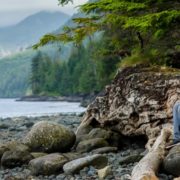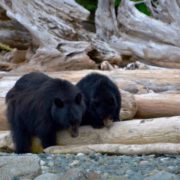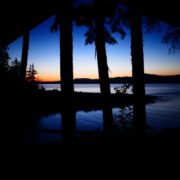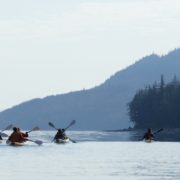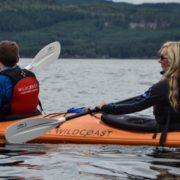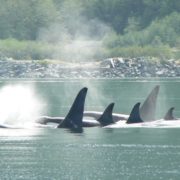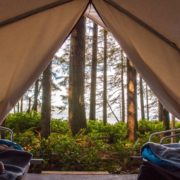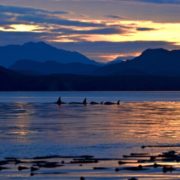 Tour Itinerary
MEETING LOCATION: Wildcoast Adventures is located at 685 Heriot Bay Road just a short distance by foot or by car from the BC Ferry Terminal in Quathiaski Cove. The day before heading up to camp, an optional  afternoon briefing is held on Quadra Island.
Day 1
Arrival on Quadra Island
Make your way to beautiful Quadra Island. Check-in time at your resort is 3:00 pm. If you arrive on the island early, take a stroll through some of the quaint shops in Quathiaski Cove or visit Rebecca Spit for a easy hike or refreshing swim.
Day 2
Wildlife Tour
A delicious continental Breakfast is provided at your Resort. Your first venture into the wilderness with be a motorized boat wildlife tour.
Guests arriving in June-August, enjoy a half-day wildlife tour on a zodiac or covered boat. September packages include a full-day grizzly bear wildlife tour.
Day 3
Boat Ride to Camp
The boat ride to camp passes through the Discovery Passage and the infamous 'Seymour Narrows' . Sightings of porpoises, dolphins, and whales are common even before reaching camp. Arriving at camp, you'll be greeted by camp staff and settled into your wilderness accommodations. An afternoon kayak orientation will prepare you for your first paddle.
Day 4
A Full Day of Kayaking
A full day of exploration along the coast in your kayak awaits. While you paddle in killer whale territory listening for orca blows, your guides will provide details about the resurgence of wildlife in this remote part of the coast as well as the ongoing threats to this critical habitat. Not only is being on the water spectacular, but you will also venture inland to a beautiful waterfall where the brave can go for a dip in the glacial waters.

Day 5
Crossing the Johnstone Strait
It's time to venture across Johnstone Strait to the island opposite camp. Kayaking along the shores we will keep a lookout for bears and cubs that often forage on the beach. After the day's paddling adventures evening will be topped off with a native sauna, a great end to a fantastic day.

Day 6
One Last Sunrise Paddle
One last chance for a sunrise paddle. Soak up the final moments of your wilderness experience while hanging out on the beach awaiting the water taxi. You will arrive back at the resort in the afternoon.
Day 7
Final Day
After waking up in the luxury of crisp linens in the peaceful beauty of the Resort, it's time to wrap up your adventure. Check out time on this last day is 11:00am.
Whales & Bears Adventure
7 days, 6 nights
Trip Dates
Jun 29-Jul 5
Jul 2-8
Jul 5-11
Jul 8-14
Jul 11-17
Jul 14-20
Jul 17-23
Jul 20-26
Jul 23-29
Jul 26-Aug 1
Jul 29-Aug 4
Aug 1-7
Aug 4-10
Aug 7-13
Aug 10-16
Aug 13-19
Aug 16-22
Aug 19-25
Aug 22-28
Aug 25-31
Aug 28-Sep 3
Aug 31-Sep 6
Sep 3-9
Sep 6-12
Sep 9-15
Sep 12-18
Sep 15-21
"Just Returned From Orca Camp And It Was Fabulous! Seriously Can't Say Enough Good Things! The Guides Were Wonderful, The Food Was Exceptionally Good, The Camp Was Great. I Would Go Back In A Heartbeat!"
"Wildcoast created a magical experience for us with their 7 Day Premium Orca trip. I could never have imagined how amazing this trip would be. From the first scrumptious dinner… to the Grizzly Bear Tour (add ORCAS to that as well) to our first sight of Orca Camp, it was a trip that will stand out forever in our memories."
TripAdvisor 5 Star Review
"…the Camp Was Better Than I Could Have Imagined With A Hot Water Shower, Roomy Tents On Platforms And A Large, Wood-heated Cook Tent Where We Gathered For Meals And To Socialize. …a Perfect Place To Slow Down And Leave Your Cares Behind!"
TripAdvisor 5 Star Review